End to End Security - If it's not End to End it's Not Secure!
The GSW FIPS 140-2 compliant SSH Server, includes FIPS 140-2 compliant Windows Desktop / Mobile CE clients, at no extra cost. Your don't have to take chances, GSW provides the End to End security you can count on.
Ensure END to END compliance by permitting only GSW FIPS 140-2 compliant clients to connect! Its configurable!
The GSW SSH Server with FIPS 140-2 compliance option provides both TRUE client and server compliance for organizations that must meet these high standards. Please be sure to review the associated documents to get a better understanding of the importance of End to End security.
Sometimes vendors of incomplete solutions will claim that since the devices' operating system is FIP 140-2 compliant that any SSH client running on it is FIPS 140-2 automatically compliant too.
This is NOT TRUE
Do not believe it. The SSH client does not automatically inherit all the operating system qualities. Just as having a 64-bit operating system, does not make all the applications 64-bit applications, a FIPS 140-2 compliant OS does not make the client FIPS 140-2 compliant.
However it is true that a FIPS 140-2 client must run on a FIPS 140-2 compliant operating system or internally contain all FIPS 140-2 certified cryptographic modules.
These are critical distinctions, that make the difference in being FIPS 140-2 compliant or not.
The GSW FIPS Compliant SSH Server and clients are FIPS 140-2 compliant when running on FIPS 140-2 compliant operating systems.
GSW SOFTWARE
VERSION
Certificate
GSW UTS Server
7.50+
#918
GSW SSH Server
7.50+
#918
GSW Desktop Client
7.50+
#918
GSW CE/Mobile Clients
7.50+
#560,#825


Required Device Oper

ating System for Mobile/CE Clients

Certificate
Windows CE 5.0
#560
Windows Mobile 5.0
#560
Windows CE 6.0
#825
Windows Mobile 6.0
#825
Windows Mobile 7.0




With respect to the client device operating system, the significant aspect is that the version of the cryptographic module rsaenh.dll must be NIST(National Institute of Standards and Technology) certified, which begins with build 14343.0.0.0. With Windows CE 5.0 extra attention should be taken to ensure the correct version of rsaenh.dll is present. Per information from Microsoft support early versions of Windows CE 5.0 did not come with a FIPS 140-2 certified version of rsaenh.dll. This may require contacting the device vendor to determine the correct version number of that cryptographic module.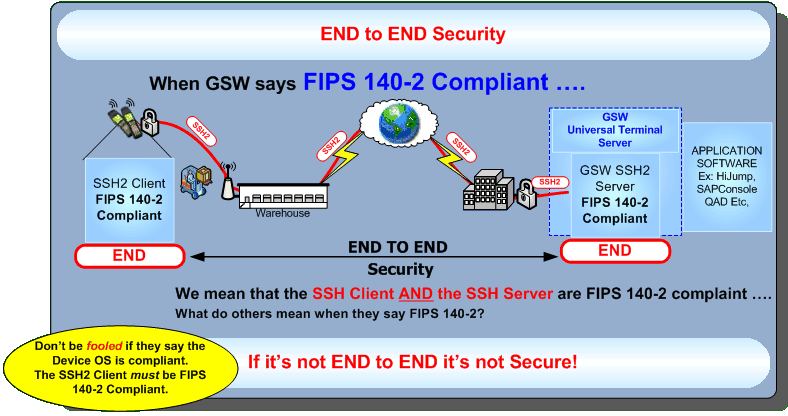 Additional material on FIPS 140-2 is available below.
| | |
| --- | --- |
| | View our flyer on End to End Security |
FIPS 140-2 specifies the security requirements that will be satisfied by a cryptographic module utilized within a security system protecting sensitive or valuable data. What are you doing to combat the onslaught of new and growing security threats? GSW SSH Server with the FIPS 140-2 option increases security while speeding the time to compliance.


View the document on the left and learn more about GSW SSH with FIPS 140-2 compliant option!
Additional material on GSW SSH and UTS Security is below.
Yes, security is serious business. Keep alert to some common "Weasel words", ambiguous or misleading terms that give you a false sense of security.
Here are some questions to consider
VERY POWERFUL TOOL
Minimize problems from the start. If they are not supposed to be on your server - Don't let them on!


If they are allowed on to perform a job, let them perform the job and not be distracted with other options.
The GSW SSH Server provides Secure Remote Access to your Windows host including Secure Remote Logon, Secure Data Exchange and Secure Access to you application on an

Insecure Network

! No Clear Text a requirement? The GSW SSH Server provides no clear text - period. Visit the GSW SSH Server page.