The Session Administrator is a powerful administrative, development and training tool included in the Georgia SoftWorks Universal Terminal Server (Telnet and SSH Server for Windows).
The communication between administrator and clients is vital in any data communication environment. Without an active administrator readily available, production can be slowed or non-existent at times. Georgia SoftWorks developed a suite of Session Administrator features that are included in the GSW UTS. Using Session Administrator allows observation of all telnet sessions on the SSH/Telnet Server. Relevant information is displayed in an easy-to-read format.
Many of these features were pioneered by Georgia SoftWorks for SSH and Telnet Servers, such as Monitoring and Shadowing.
Features Overview: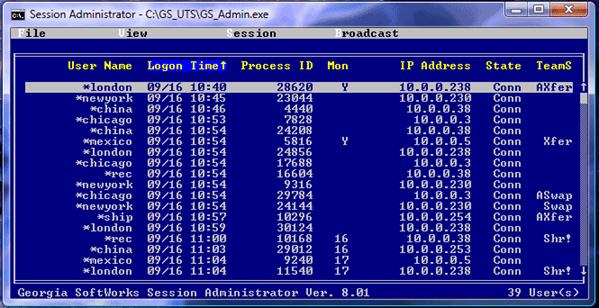 Manage Sort Client Sessions - Observe all Telnet/SSH2 sessions. Sort on columns, view Users Names, IP addresses, Logon Time, connection state and more.
Monitor Client Sessions - Locally and transparently observe the display on a remote SSH2/Telnet Session exactly as it appears to the remote user in REAL TIME.
Shadow Client Sessions – Similar to Monitoring except interactive input is allowed. This means you can take control and provide input to another SSH2/Telnet Session.
Attach to Client Sessions – Allows you to Attach (connect) to a suspended session and complete work in progress. Continue at exactly the same point as when the session was suspended.
Terminate Client Sessions– Select a SSH2/Telnet Session and terminate. Graceful termination will take place upon termination.
Send / Broadcast Messages to Clients – Capability to send a message either to an individual or all SSH2/Telnet sessions. Command line interface allows scheduling of messages also.
View Detail Information about Clients – Get detailed information on each session.
Command Line Interface forSession Administrator– Many of the Session Administrator features are available from the command line. This allows you to launch Session Monitoring, Shadowing, etc from your own application.
Identify GSW True FIPS 140-2 Clients – Easily identify which connected sessions (or that all) are True FIPS 140-2 clients to confirm the security level of connections to your server.
View Team Services States- View the states and status of Team Service Teams!
To view more information on these features, visit the GSW Telnet Session Administrator Page!