Georgia SoftWorks developed the GSW ConnectBot (Telnet/SSH Client for Android) several years ago as the most secure Terminal Emulation Android SSH client available for commercial and industrial environments.
Since then, Georgia SoftWorks has continually developed and evolved the product, adding features based on user response and industry needs.
Georgia SoftWorks is proud to introduce the GSW ConnectBot: SSH Client and Enterprise Browser for Android. The Enterprise Browser for Android – Expanding functionality beyond the capabilities of standard browsers.
Georgia SoftWorks designs their products on their core foundation of requirements for commercial software: It must be reliable, consistent, robust, with superior performance. Their software focuses on increasing functionality, speed and efficiency in the most demanding industrial and commercial environments.
Their Enterprise Browser for Android does just that. They've increased user and device functionality with tasks like: Scanner Control - Utilize barcode scanning directly from the browser, including: Zebra, Honeywell, and Keyence Scanners. Whitelisting - Having no address bar and whitelisting pages ensure users stay on task throughout the day. Telemetry Data - View real time data from telemetry data gathered from the devices Device Level Control - Easily access device-level features using Cordova APIs and plugins. Support for Apache Cordova framework and CipherLab Devices
Key Features
SAP ITS Mobile Enhancements with just 1 tap. SAP Users rave over the SAP ITS Mobile Enhancement feature – The GSW Enterprise Browser for Android will transform SAP ITSMobile into a user-friendly, visually attractive, responsive screen with multiple skin choices – with no changes to the SAP backend code. Easily transform your device's screen into a properly fitted, well-designed, fully functional screen.
How do you use this? Simply with a 1-tap toggle switch. NO customer service needed; NO writing code needed!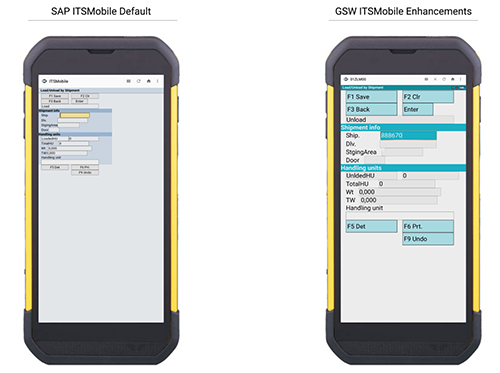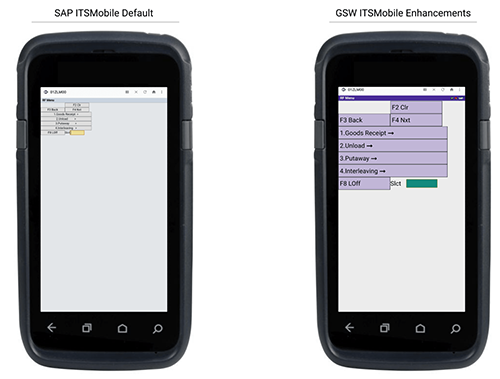 Apache Cordova Support – Apache Cordova is an open-source mobile development framework that allows standard web technologies (HTML5, CSS3, and JavaScript for cross-platform development).
The GSW ConnectBot Enterprise Browser for Android allows users to easily access device-level features using Cordova APIs and plugins. Users can control the device scanner and media, access the device file system, and gather information about the battery, network, GPS, and much more. Near Infinite Expandability with GSW ConnectBot Enterprise Browser Apache Cordova Support.
Custom JavaScript and CSS Injection – This allows users to modify their application or look of existing websites with JavaScript and CSS Injection directly from the mobile device, without having to change any backend or server-side code. This makes modification of applications easier and safer, without the risk of messing up important backend coding.