This Page Intentionally left blank
Georgia SoftWorks
Georgia SoftWorks Universal Terminal Server for Windows Server 2012-2022 and Windows 10/11
Copyright ã 1997-2021, Georgia SoftWorks, All Rights Reserved
Public Square
17 Hwy 9 South • PO Box 729
Dawsonville Georgia 30534
Telephone 706.265.1018 • Fax 706.265.1020
Reliable, Consistent, Full Featured while providing incredible performance!
<![if !vml]>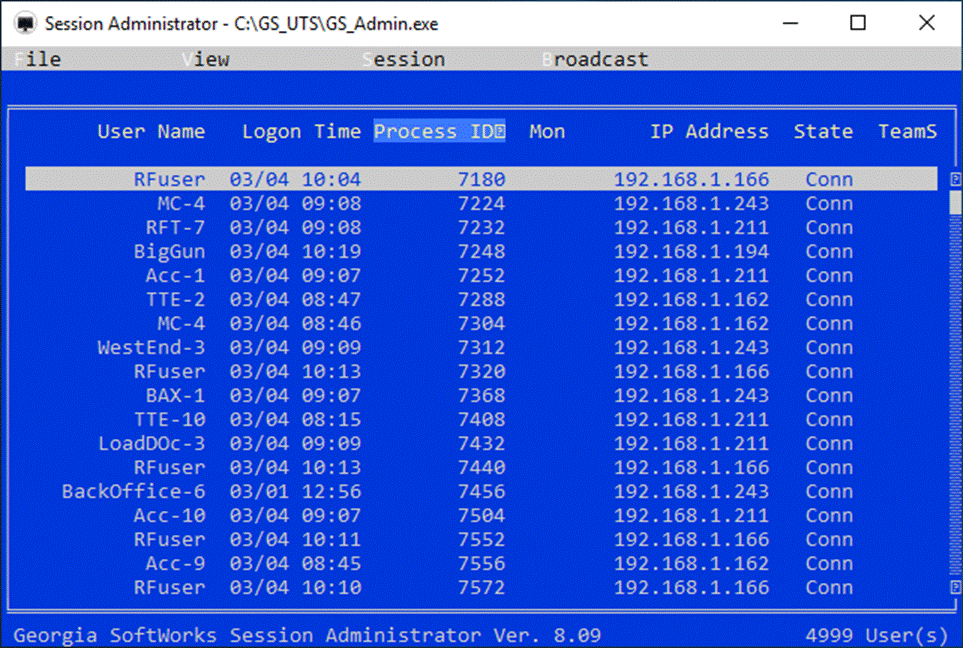 <![endif]>
Actual screen shot in the GSW Lab of 4999 sessions connected during testing!

Copyright © Georgia SoftWorks, 1997-2022 All Rights Reserved.
User's Guide, Version 8.11.0012, December 29, 2021
Microsoft, Windows, Windows Pocket PC, Windows Mobile, Windows XP, Windows 2000, Windows Server 2003, Windows Server 2008/R2, Windows Server 2012/R2, Windows Server 2016, Windows Server 2019, Windows Server 2022, Windows VISTA, Windows 7,  Windows 8, Windows 10, Windows 11, Windows NT, Windows 98, Windows 95 are trademarks of Microsoft Corporation. SAP SAPConsole are trademarks of SAP AG. LXE, Intermec, Janam, Psion-Teklogix, Psion Teklogix Omni XT10, Symbol, PSC Falcon, Unitech, VMware, Honeywell, Honeywell Dolphin 6500, Honeywell Dolphin 9950, Honeywell LXE Thor, Intermec CK71, Intermec CN3, Motorola, Motorola MC9190, MobileDemand, MobileDemand xTablet T7000, Datalogic, Datalogic Elf, Datalogic Falcon X3,  Vangard Voice AccuSpeech, CipherLab, Keyence, Custom, Android are trademarks of their respective companies.
THIS PROGRAM IS PROVIDED "AS IS" WITHOUT WARRANTY OF ANY KIND, EITHER EXPRESSED OR IMPLIED, INCLUDING, BUT NOT LIMITED TO THE IMPLIED WARRANTIES OF MERCHANTABILITY AND FITNESS FOR A PARTICULAR PURPOSE.
LICENSOR MAKES NO WARRANTIES OR REPRESENTATIONS, EXPRESS OR IMPLIED, ORAL OR WRITTEN, REGARDING THE PROGRAM OR DOCUMENTATION AND HEREBY EXPRESSLY DISCLAIMS ALL OTHER EXPRESS OR IMPLIED WARRANTIES, INCLUDING MERCHANTABILITY AND FITNESS FOR A PARTICULAR PURPOSE. LICENSOR DOES NOT WARRANT THE PROGRAM WILL MEET YOUR REQUIREMENTS OR THAT ITS OPERATION WILL BE UNINTERRUPTED OR ERROR FREE.
IN NO EVENT WILL GEORGIA SOFTWORKS BE LIABLE TO YOU FOR ANY DAMAGES, INCLUDING ANY LOST PROFITS, LOST SAVINGS OR OTHER INCIDENTAL OR CONSEQUENTIAL DAMAGES ARISING OUT OF THE USE OR INABILITY TO USE SUCH PROGRAMS.
COPYING:
WHILE YOU ARE PERMITTED TO MAKE BACKUP COPIES OF THE SOFTWARE FOR YOU OWN USE AND PROTECTION, YOU ARE NOT PERMITTED TO MAKE COPIES FOR THE USE OF ANYONE ELSE.
LICENSE:
YOU ARE LICENSED FOR A SPECIFIC NUMBER OF CONCURRENT OR SIMULTANEOUS CONNECTIONS TO A SINGLE Windows Server 2012-2022 and Windows 10/11 SYSTEM. THE NUMBER IS SPECIFIED IN YOUR PURCHASE AGREEMENT. ANY ATTEMPT TO INCREASE THE NUMBER OF SIMULTANEOUS OR CONCURRENT CONNECTIONS EITHER INTENTIONAL OR UNINTENTIONAL IS IN VIOLATION OF THIS AGREEMENT.  TELNET SERVER SOFTWARE MAY BE INSTALLED ON A SINGLE WINDOWS SERVER 2012-2022 AND WINDOWS 10/11 SYSTEM. 
Table of Contents